VINCENT VAN GOGH (1853-1890) wrote 1887 in a letter to his brother Theo, that his dream would be a community of pain- ters, realizing i.g. works together, in which one would paint the heaven, the next the houses, a third the persons in the collective painting. For his "Atelier of the South" he invited different painters to come to Provence and live together. But the only one who came (after poor Van Gogh had payed his travel) was a certain PAUL GAUGUIN! But…..he refused to paint on the same canvas with Vincent: "You do your thing & I do mine !
Selfportrait of Vincent van Gogh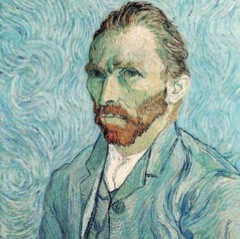 We assembled -in virtual reality- a painting of Vincent (to the left) with one of Paul (to the right).